Studio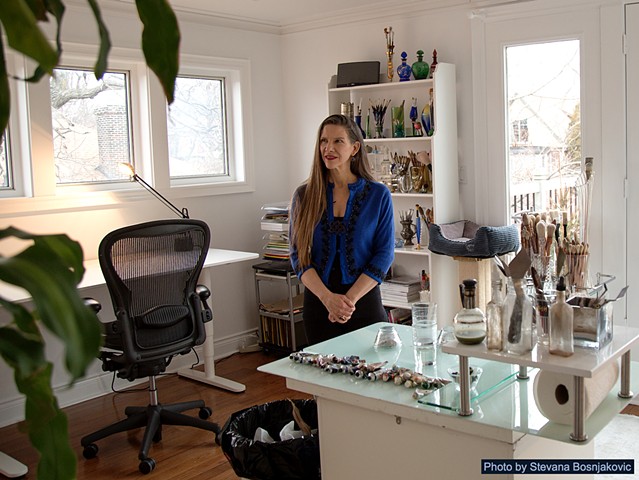 Kelly O'Neal – Biography
Kelly O'Neal was educated at Toronto's OCAD University. She began her artistic career in Los Angeles, producing one-of-a-kind apparel. Her flamboyant designs found their way into several popular television shows, adorning both pop stars and movie actors. She worked with rare and antique fabrics, combining new materials with exotic Japanese kimonos.
Kelly's transition from wearable art to drawing and painting began in the mid-1990s. Since then, her work has been influenced by iconic women's clothing in contemporary pop culture, traditional forms of Japanese figurative woodcuts, medieval French architectural details, the emotionally-charged colours of Mexico and, the richness and abundance of Africa's animals and foliage.
Kelly has worked from studios in California, Mexico, France and Kenya. She currently paints and draws from a bright space overlooking Toronto's High Park… a promising spot to be inspired.
Her exhibitions include: in Canada, Weapons of Mass Attraction, 401 Gallery; Ambrosia, Propeller Gallery; 5th Annual Juried Drawing Exhibition, and Worship, Ontario Society of Artists' 130th, John B. Aird Gallery; and, About Love, at Lonsdale Gallery. In the US: five years at the Area Artist Collection Albright-Knox Collector's Gallery, Buffalo; and, two shows, Separate Visions and Small Works, Sarah Bain Gallery, Los Angeles. In Europe: studio shows Chateau St. Phillipe, Saint Jean De La Porte, France; and, several solo and group shows at the Halde Galerie, in Widen, Switzerland.